Experiences

Incredible spaces

The city

Happy

Stories

Close to your work
We are a vibrant community of monthly stays conceived and designed for sharing.
Start living + in one of our shared houses located in CDMX and Monterrey N.L.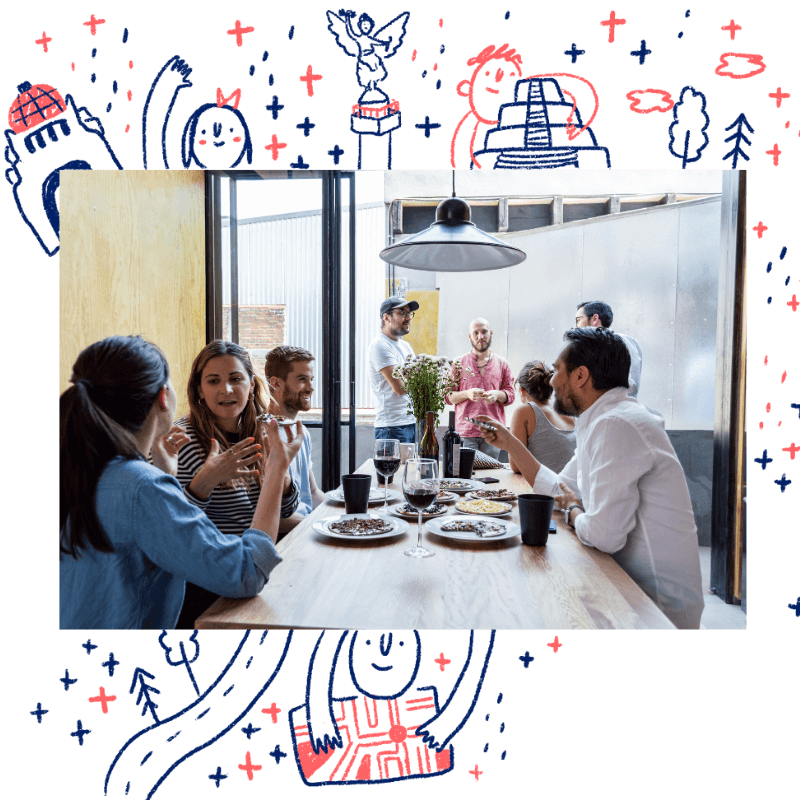 Be part of our community!
All our homes are designed to share spaces, experiences and a communal lifestyle. Each has its own unique personality and benefits, but they also have common spaces accessible to everyone in the community.

Choose the house you like the most and apply for a room. Find out why sharing is living +.
Casa Curie in Monterrey is the perfect space for community living. Fully designed and furnished for conviviality.
Casa del Valle Norte is about to open its doors to a new community. Be among the first on our waiting list.
Located in the south of Mexico City, very close to Coyoacán. It has very large spaces designed for indoor and outdoor living.
House in Polanco full of color, suitable to enjoy in community, has a coffee room, reading room, dynamic room and terrace ideal for living.
House in Condesa that celebrates community life. Enjoy its social garden, live together in the dining room ideal for sharing, surrounded by plants and light.
Remodeled Porfirian house in Roma Norte. It has a kitchen ideal for sharing, coworking and a terrace ideal for community brunches.
House in Roma Norte that joins two shared spaces with good lighting. On one side a kitchen-dining room, on the other a living room and a work table.
Three apartments adapted for the community, with a shared kitchen on the middle level, living rooms on levels 1 and 3 and a beautiful terrace.
Remodeled under the Kintsugi concept, it gathers privacy and community in the same space, with a balcony extending the shared area.
Become part of our community
I have been very happy wtij my stay at Covive. I have made very dear and life-long friends, and realized how much I value living in community.
The whole experience with the customer service team has been amazing! I will definitely be back
Thank you very much for everything! We had an amazing time in Amatlan. Keep the good job
A really great place, in which I met people whom I appreciate very much, not only roomates but also the staff in charge of Covive, always very kind and attentive, seriously thank you very much for everything.
The house Rio de Janeiro has a great vibe with nice furniture and plants and feels like a home
My whole experience with you guys was amazing. I love that house, I love the roomies, I thank each one of you for such a good vibe and always trying to do the best you can. Merci!
I loved my time at Casa Amatlan. The best thing I take away with me is meeting great people and making friends, getting to know the Mexican culture together and sharing great moments. I hope I can come back!
The stay here has been and continues to be wonderful. I love my colleagues, the facilities and the good vibes!
In the evening I can go out to read on the terrace and it makes me feel very happy. On top of that, at Covive I have been able to meet many people I wouldn't meet anywhere else.
Thanks for the good time I had in Amatlán and for always being quick in responding!
Thank you for your help and attention. For fostering such a healthy and close coexistence among the Community. I wish you all the best again, and I reiterate my intention to come back someday. One month is not enough!
Team was very responsive. Rooms are great. No complaints. Thanks. ⭐⭐⭐⭐⭐
Thanks for everything, it was a great place to stay and I loved having a "family" the second I moved in. Hopefully I will be back here or one of the other houses soon. Let me know when you have a house on the beach.
Thank you because I found it a good experience to be in covive and I think all the staff has a very good vibe!
I loved the ambiance, the house is amazing, I would like to come back.
Rafael Yari Cabanillas Gonzalez
I have felt at home, like family. The Team has supported us in everything, but above all, they have given us a lot of warmth and affection... and that is priceless. I will miss them very much and I will do everything I can to come back.
Everything is perfect. Would love to return to Covive when I am back in CDMX
I loved Covive. Thank you for your support and for always making me feel at home.
That's the best community for newcomers in Mexico to meet amazing people:) thank you for creating this environment
Very comfortable everything! the location is very nice and the house too!
Thank you for your support and for always making me feel at home.
Hi, thank you for hosting us at Covive. Everything was great and we are grateful for all the help you have given us over the past 5 months.
Lucas Francis and Jennifer
Living in Covive is to feel at home without worries, you have beautiful spaces.
As hosts they are unique, as organizers they are unique.
My stay in the house of Covive has been an excellent experience, I never imagined the attention so good. I feel at home. The coexistence is incredible but the respect for the space is also incredible. It has been the best option.
The spaces at Covive are very well distributed, the people are super warm and my roomies are the best.... are very well organized at the administrative level and that helps a lot.
Living in the community Covive has allowed me to focus on living together. They are attentive to the needs of the community and create spaces that strengthen the shared living experience.
Despite being a migrant and not knowing many people, I feel accompanied and supported by the community. I appreciate the opportunity to share in an atmosphere of conviviality, respect and celebration of diversity.
I have found the experiences organized by Covive to be very good. In fact, at Casa Rio de Janeiro we have repeated the recipes together.
United States of America 🇺🇸
My main benefit was the interaction with the other covivers. It allowed me to meet super interesting people and broaden my outlook in multiple fields. An additional benefit is the excellent attention to home situations.
The house makes me feel welcome. Covive offers me organization, cleanliness and management. A complete package. Covive is there if you need it, they are practical, efficient and discreet.
What do they say about Covive?
What do our houses include?
At Covive, each resident pays a monthly contribution that includes the furnished room, all utilities (internet, gas, electricity and water), unlimited filtered water for drinking, twice weekly cleaning of shared areas, access to shared areas (kitchen, dining room and living room) and access to amenities for the entire community both for work (coworking) and recreation (terrace, social loft).
Do you want to be part of Covive?
Start living + in one of our shared houses.